Pre-tax, pre-provision income at record levels up 14% reported
---
and 56% excluding significant items*
Year-over-year balance sheet growth
---
21% growth in total assets year-over-year to $1.2B
35% growth in total loans year-over-year to $934MM (excluding PPP)
19% growth in total deposits year-over-year to $1.1B
Net income up 44% year over year
---
Excluding significant items*
33% increase in revenue
Wealth assets of $1.7 Billion, down 5% from one year ago and impacted significantly by current market conditions
---
Wealth fees up 15% year-over-year
$171 million in new wealth assets YTD
Book value per share of $20.72 compared to $21.56 one year ago
---
Impacted by $14MM in year-over-year downward "mark to market" adjustments to the securities profile, or $2.90/share
Diluted Core EPS increased 40% year-to-date versus the same period in 2021 to $1.68*
---
*For detail on significant items, please see Financial Excerpts Excluding Significant Items below.
Letter to Shareholders
Oakworth announced our intention to enter the Central Carolinas market with a new office in Charlotte in the first half of 2023. Central Carolinas is another market where we believe our business model will be well-received by our target market (closely-held businesses, professionals and families). When we consider expanding to a new market, we always start with a culture leader who lives our five core values – Golden Rule, Character, Innovative and Creative Spirit, Professionalism and Worth Ethic – and we have done just that with Tim Beck, our market lead. Tim is an experienced professional and a native of Charlotte and is a perfect fit for cultivating the Oakworth model in the Central Carolinas.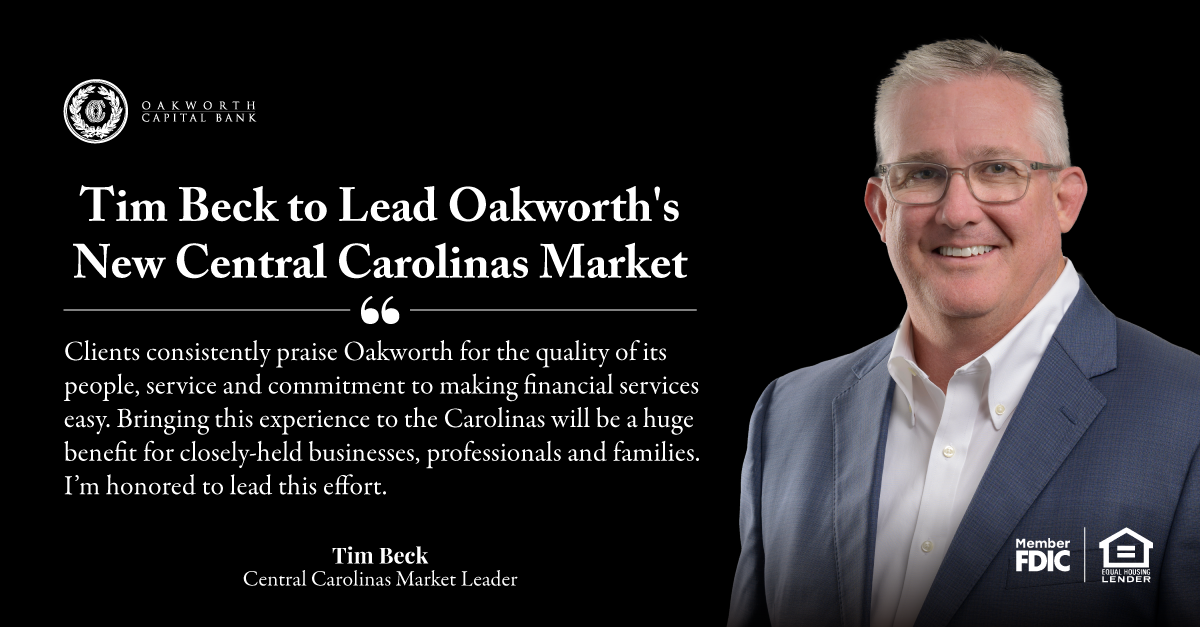 Anticipating growth in Central Carolinas and across all markets, Oakworth successfully concluded a private placement of $35 million of subordinated notes. We were particularly pleased to garner such a positive reaction from the public marketplace and obtain favorable pricing. This capital positions Oakworth well for future growth.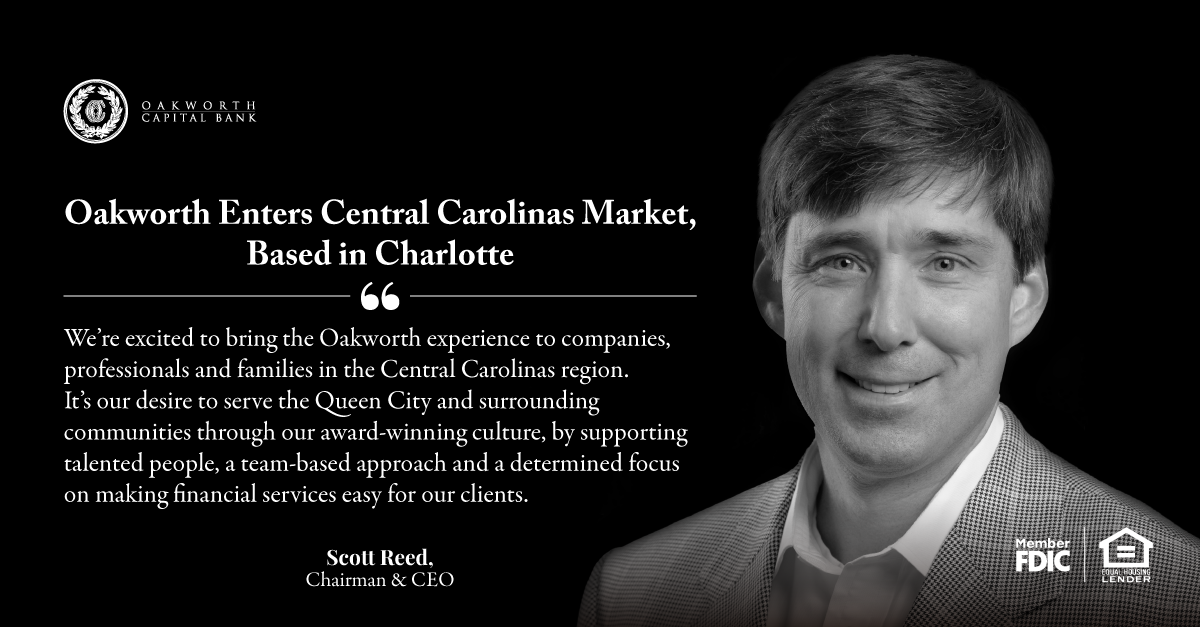 These two important milestones bring us closer to our ultimate goal of becoming an iconic brand.  As always, the consistency of the quality of our people, our distinctive level of personalized service, and our ability to make our clients' financial lives easier across markets and across disciplines fully support this goal. We look forward to announcing another milestone in the fourth quarter that will bring our shareholder experience more in line with our brand. If you are not already following us on LinkedIn or Facebook, please do so for the most up-to-date happenings across our franchise.
These milestones are exciting for the future of Oakworth. In addition to investing for growth, Oakworth has continued to enjoy growth across our markets. Loan and deposit growth, as well as our asset-sensitive balance sheet position, have combined to drive record levels of core revenue and core pre-tax, pre-provision income throughout the year, increasing 56 percent year-to-date September 30, 2022 versus the same period of 2021. Wealth assets continue to be at a lower-level year-over-year as a result of financial market valuations; however, we've booked nearly $200 million of new wealth assets so far in 2022. When markets normalize, wealth assets and the related fees should return to more historical growth levels.
We are pleased with our profitability trends with core diluted EPS having increased 40% year-to-date 2022 vs. the same period in 2021. Return on average equity (ROE) excluding significant items is 12.6% and our core efficiency ratio was at 62% during the third quarter.
While entering a new market is exciting, performance across all markets remains a focus. Each market continues to grow and has contributed to the overall performance of Oakworth. Middle Tennessee opened in early 2020 and is now transitioning from a "new" market to a core part of the overall company. The team in Middle Tennessee has produced very nice growth and has grown enough to warrant additional space.  The same scenario played out in South Alabama a few years ago. We look forward to replicating this success in Central Carolinas.
Thank you for your continued support. We look forward to a successful close to an already exemplary year in our company's history.  We wish you a happy holiday season and look forward to a bright future together!
Sincerely,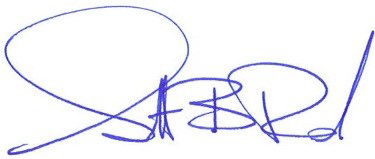 Chairman and CEO