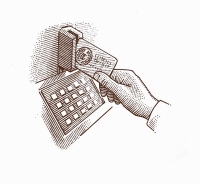 On October 1, 2015, credit and debit card payments in the U.S. will undergo a significant change with the introduction of EMV guidelines for cards and processing terminals. The goal of EMV technology is to reduce the fraud risk associated with in person or "card present" transactions. Oakworth Capital would like to communicate some frequently asked questions regarding EMV and how it will affect your credit and debit card transactions.
What is EMV? EMV stands for "EuroPay, Mastercard, and Visa" and refers to chip enabled payment devices, primarily credit and debit cards. Each chip is a microprocessor that will interact with Point-of-Sale and ATM systems.
Why EMV and why now? EMV chips have the ability to protect cardholder and transaction information. The United States is the only major country in the world to still operate its card payment systems using "Mag Stripe" technology, which was originally developed in the 1970's. The Mag Stripe technology is easily susceptible to fraud since the cardholder and transaction information remain unprotected. 
Over 80 countries around the world have converted to the EMV standard over the last 10 years. There are currently over 2.37 billion chip payment cards in use worldwide. Canada, most of Europe, Latin America, the Caribbean, Africa, the Middle East and Asia have converted both cards and Point-of-Sale/ATM terminals to allow EMV transactions.
Major card issuers began issuing mandates for EMV conversion to financial institutions and retailers in the U.S. as early as 2011. Backed by legislation, the dates for voluntary conversion to the EMV standard were set for October 1, 2015 for retailers and October 1, 2017 for automated fuel dispensers.
How Does EMV work? EMV technology benefits cardholders by reducing card fraud resulting from counterfeit, lost and stolen cards. Key information is stored on the chip and not on the Mag Stripe. EMV secures transactions in three main areas: (1) Card Authentication, (2) Cardholder Verification, & (3) Transaction Authentication 
EMV transactions require the cardholder to insert their card into a terminal instead of swiping. The card will usually need to remain in the terminal for 30-45 seconds while the transaction processes.
Will all retailers be able to process EMV transactions beginning on October 1, 2015? No. Retailers in the U.S. are beginning to update their Point-of-Sale/ATM terminals to process EMV transactions. Major retailers have been upgrading their terminals for months and some are already allowing EMV transactions to process. Smaller retailers will be converting over the next several years. 
Beginning October 1, 2015, do all credit and debit cards have to have an EMV chip to work? Absolutely not. Retailers will continue to allow traditional Mag Stripe cards to work. Oakworth Capital clients should not expect any issues using their current cards. 
How and when are Financial Institutions issuing EMV cards? Each Financial Institution will choose a conversion timeline that best suits their needs while some Financial Institutions may not convert at all. Some issuers have already begun converting their card portfolios, while others have decided on a later date or to phase in EMV cards over a multi-year period. 
When will Oakworth Capital issue EMV cards? Oakworth Capital will begin issuing both EMV credit cards and EMV debit cards in the first quarter of 2016. 
Who do I contact if I have questions regarding EMV or Oakworth Capital's plans surrounding EMV? Please contact your Oakworth Capital Client Advisor or Trent Green at (205)263-4711 / .