Why are you upgrading your application?
We are upgrading our mobile application to give you a more modern design and experience. Upgrading the application gives us the ability to grow our mobile platform at a faster rate with more services to offer you.
What will happen to the current Oakworth app on April 13?
Our goal is to make this transition as easy as possible for our mobile banking users. On the date of the upgrade, we will target to release the new applications between 8 am and 10 am.  Please review the information below for iPhone & Android Users.
All users will be required to set up biometrics if they previously had that feature enabled in the old app. All users will also be presented with new terms and conditions in order to use the newest Android application.
iPhone Users:  with "Auto-update" enabled, the app should update without any user interaction.  However, there may be conditions with the user's device that may prevent the update from happening. These conditions include device Wi-Fi, data network settings, or other circumstances that may require a manual update of the existing application. If a user is having issues with the current application, they can update their app by following these instructions:
Android Users: Android users will be required to remove the old application and download the new version from the Google PlayStore. We will provide you with the new Android app store URL on April 13.
Users that attempt to access the old application will receive the following message when accessing the old application.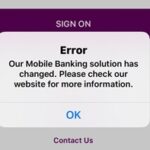 Why am I getting a "Welcome to Mobile Banking" email?
As we move to the new mobile application, new mobile banking users will receive a welcome email. However, there may be some individuals who previously used our legacy mobile banking product that receive this email in error. We apologize for any inconvenience this may cause. Please contact our Solutions Group at (205) 263-4700 if you have any questions about anything that you receive.
Why do I have to accept new Terms and Conditions?
We have updated our mobile banking terms and conditions during the process of upgrading our current application. All existing and new users will be required to accept the new terms and conditions.
Will I need to create a new access ID & passcode?
No, your current login information for digital banking will remain the same.
When will the new application be available?
We will be targeting to release the new application on April 13.
Will anything change to our current application or experience while we wait to transition?
No, your current mobile application will operate as usual.
Why can't I find the new application in the Google Play or Apple App Store?
The new application may take a few hours to be located by search. If you are having issues locating the new application please use the links below to access the direct URL for the application:
iPhone: https://apps.apple.com/us/app/oakworth-capital-bank/id683398190
Android:  https://play.google.com/store/apps/details?id=com.apiture.xpressmobile.ocbal.sub 
What should I do if I notice any issues with the application?
We do not expect any issues with the upgrade, but if you do notice anything you may contact the Solutions Group at (205) 263-4700 to report an issue.
Are any features changing or going away?
Outside of the updated user interface and experience, we have removed the PreView balance check functionality from our new mobile application. Recognizing the overall increase in end-user adoption of our biometrics (Touch ID/Face ID), we chose to remove the PreView functionality due to low usage. We will continue to work to make improvements to the current application to ensure we are meeting all of your needs.
Will anything change with text banking?
Yes, the current short code for text banking is 96865. Starting on April 13, we will be changing the number that is used for text banking. On the day of the upgrade after 11 am CT, you may begin using this number for text banking.
As a reminder, these are the text banking commands:
B: Balance inquiry on all accounts
H: History on specified account
Admin Commands: (HE, C, STOP)
What are some of the new features of the application?
An updated user interface and user experience
New look and feel
App landing page redesign
Custom Hero Image
Ability to reveal the typed passcode
Customer greeting
Biometrics for Android (Facial Recognition)
Fixed Recurring Transfers via Mobile
Easily viewable links on the "More Menu"