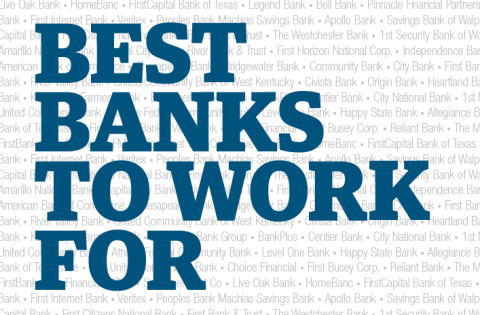 Oakworth Capital Bank has been named to American Banker magazine's 2017 Best Banks to Work For, as the #18 "Best Bank" nationally, and #1 in Alabama. The initiative, which began in 2013, is a project of American Banker and Best Companies Group to recognize and honor the best banks to work for in the nation.
Determining the Best Banks to Work For involves evaluating each participating bank's workplace policies, practices, benefits, and demographics as well as confidential employee surveys aimed at assessing the engagement and satisfaction of individual employees with respect to their workplace. The combined scores determined the top banks and the final ranking. The full list will be featured in the September issue of American Banker and is available at www.AmericanBanker.com.
"We are honored to be recognized as one of the Best Banks to Work For by American Banker. Our Core Purpose is 'Helping People Succeed', and this award is evidence that our associates are experiencing a gratifying work environment," said Scott Reed, Chief Executive Officer. "Oakworth associates are challenged and excited about their work, feel valued for what they contribute and enjoy their daily environment. When this happens, our associates are fulfilled and our clients benefit from an energized group that delivers a distinctive level of service."
About Oakworth Capital Bank
Oakworth Capital Bank provides commercial banking, wealth management, and private banking services to successful businesses, families, and individuals. The Bank is headquartered in Birmingham, and has offices located in Montgomery and Mobile. For more information about Oakworth Capital Bank and its unique approach, please visit the company website at www.oakworthcapital.com or call us at (205) 263-4700.