Emma Goolsby
"Tell me and I forget, teach me and I may remember, involve me and I learn." -Benjamin Franklin
It's a strange feeling—being bombarded with pictures of people you know at the beach or on fabulous summer vacations and not being envious or wishing you were elsewhere. Rather, I love waking up every morning and being excited to go to work. Most interns do not have this experience. In fact, I believe most experience the opposite. Oakworth Capital Bank is a special place. The building is beautiful, the location is perfect, but it is the people that truly make it exceptional. Each associate at Oakworth is bright, genuine, and above all uncommonly kind. I have been welcomed in such a way that is going to make it very difficult to leave. The fact that so many accomplished and busy professionals took the time to include us in their work and show us what they do astounded me. The keyword there is "show"—it would have been far simpler to sit us down and give a cursory overview of their job in between meetings; instead they invited us along and we got the privilege of seeing them in action. The above quote by Benjamin Franklin perfectly encompasses the invaluable hands-on experience I gained at Oakworth this summer. With every project, meeting, and presentation came a meaningful purpose and countless opportunities for growth—to such an extent that it hardly felt like work at all. No needless coffee runs, no busywork, no sitting in a cubicle twiddling my thumbs.
When Forest Whatley came to speak to my Principles of Finance class in the fall of 2017, the impression of Oakworth that he left me with was that of rarity—and of course, he was right. It doesn't take a banker to know that Oakworth's culture, commitment to values, and vision are rare in the industry. I am certain that it is equally rare to find an internship where the senior leadership and founders of the bank interact with the interns let alone sit down with them to discuss how the bank can improve the care of its clients and serve the career goals of its interns. Forest's enthusiasm for his company was so contagious that right after my class dismissed, I bolted home and applied to be a part of this values-founded company. I am even more excited about Oakworth today than I was when I first heard the name.
Everyone knows that saying something and actually doing it are two completely different beasts. It is tempting to share with you the myriad of ways in which Oakworth consistently lives out their core values, but I would risk this blog post being the length of a Russian novel if I did. However, I can confidently tell you that it's all true—every word.
Hometown: Mountain Brook, AL
School: Auburn University
Major: Finance
One fun fact about you: I once met Roger Federer in a restaurant in Rome
Hidden Talent: snow skiing
What kind of superpower would you like to have? Flight—no question
What do you hope to do in your professional career? Be in a leadership role where I can impact people and make a difference
What do you like most about being a summer associate at Oakworth? The people…and the gift baskets.
What is the most valuable thing you learned during your time at Oakworth? The importance of company culture
What was your favorite group during your rotation? Wealth, but Commercial Banking is a close second.
Favorite memory? Sam Upchurch bringing his puppy, Paddy, to loan committee every Tuesday.
Houston Hollis
Oakworthy Foundation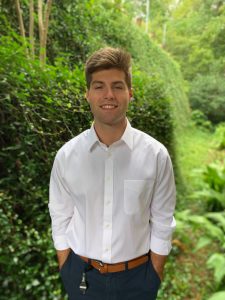 As a rising junior at Auburn University, I have begun to pursue a career in finance. Choosing a sophomore internship where I could be exposed to practical application in the financial services industry was very important to my professional development. Oakworth Capital Bank has provided me an experience far past expectation. During my time at Oakworth, I was given the responsibility of a full-time associate. My responsibilities ranged from constructing competitor analysis, market research and consolidated financial statements to being exposed to relevant transaction experience. In particular, I was able to help execute financing a leveraged buyout by projecting free cash flow analysis to determine feasibility of debt coverage. Such deal exposure is unique to many sophomore internships. Therefore, I have been given the ability to apply my course work in valuable, real-world situations. Oakworth instills the mindset of helping young talent succeed within the organization. Also, I was able to grasp the active relationship between each division of the bank that provides a unique client experience which has been lost within the industry.
Oakworth is an institution where they truly "redefine financial services" and care about their associates as individuals. These values create a special atmosphere that allows the firm to continue to achieve exponential growth. Oakworth takes pride in personal connections, and it is shown through the way they treat their co-workers and clients. Along with my technical application, I have learned behavioral skills that I believe will propel me forward as a future professional. Throughout various projects, I have obtained what it means to excel as a teammate. Being able to work with various types of personalities to achieve a common goal brings tremendous success. The Golden Rule is a valuable mentality that displays Oakworth's character and is a core principle that has personally affected my internship. The Oakworthy Foundation that I have developed is something that I am very thankful for and will cherish throughout my career.
Hometown: Birmingham, AL
School: Auburn University
Major: Finance
One fun fact about you: Certified Skydiver
Hidden talent: Move my ears without touching
What kind of superpower would you like to have? Fly
What do you hope to do in your professional career? Being able to provide for my future family and give back to the one's that have given so much to me
What do you like most about being a summer associate at Oakworth? Having access to learn directly from senior leadership
Most valuable advice: Continue to focus on being the #1 analyst before thinking about being the #1 CEO
Favorite group during your rotation? Credit and Wealth
Favorite memory:  Getting to know other associates outside of work at a Baron's game
Peter Maluff
Reflections on a Summer of Firsts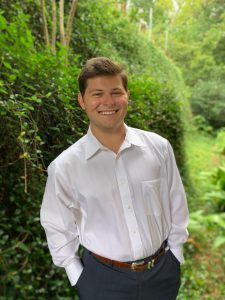 This summer has been one of firsts. I came into this summer as a hungry, finance obsessed kid without any true knowledge or experience on how a bank was run. I exit this summer as a hungrier young man, equipped with the resources to start a prosperous career. As I began to look for summer internships, Oakworth's presence at Auburn came on very strong. They are extremely plugged into the Auburn business school, and after reading the description of their summer internship on the campus recruiting website, I knew this would be my first choice for the summer. Oakworth has truly captured exactly what a summer internship needs to be for a career-driven student and has somehow managed to make it useful for them as well. I have completed tasks and gained experiences this summer that I never would have thought I could get out of a ten-week program. Below, I outline some of those tasks and share a couple of memories that stuck out over my 10-week experience.
I began my Oakworth journey in the Credit Department, where I was quickly tasked with inputting financial information provided by clients/prospective clients into Moody's Analytics Software, which was then used to create Loan Committee packages that are presented in a meeting where bank directors decide whether or not to approve a loan. Next, I moved to Wealth, where I learned about the Administrative and Investment sides of Wealth Management, presented an economic research project to the Managing Directors and Client Advisors, and became familiar with the systems that we use to make trades and do investment research. Moving again, I sat in with the Finance and Accounting team where I read up on our personal financial statements, logged and closed Accounts Payable, and created a spreadsheet of data that I extracted using S&P Global software to compile a list of prospective clients in a geographic area that Oakworth is interested in putting an emphasis on. Finally, I ended my rotations in banking. In this rotation, I assisted the Market Leader and other interns in compiling a list of shareholders and advisory board members to find prospective business opportunities. I also assisted one of the portfolio managers in creating a Loan Committee Package from front to back, starting with spreading the company prepared financials statements, creating relevant excel tables to be included in a credit memorandum (which I co-wrote), and ultimately presenting the proposal to the CEO, COO, Chairman of the Board, and multiple Managing Directors and Client Advisors.
The above paragraph highlights many of the important technical experiences that I learned this summer. What it fails to include are the countless breakroom conversations, eye-opening explanations led by other associates, socials outings and phobia-crushing conversations and presentations that shaped me this summer. Oakworth is extremely special in that it actually lives by its core values, and doesn't just use them for a Marketing perspective. I am extremely thankful for what Oakworth has taught me in my time here. I know that it has far exceeded my expectations of what a summer internship would be, and has shown me what a summer internship should be. I feel more than ready to take on what the real world has in store for me now, and rather than being a wide-eyed student trying to kick off a career, Oakworth has trained me to be an educated and comfortable (soon to be) graduate, ready for whatever is thrown at me.
Hometown: Vestavia Hills, AL
School: Auburn University
Major: Finance
One fun fact about you: I knew the name of almost every dinosaur at the age of 2.
Hidden Talent: I've played the guitar since the 3rd grade
What kind of superpower would you like to have: Teleportation
What do you hope to do in your professional career? I hope to be a true finance professional, being well versed on the analytical side of things while also helping clients and forming relationships.
What do you like most about being a summer associate at Oakworth? I have thoroughly enjoyed coming to work every day. I have seen and heard some of the most interesting and stimulating things on a daily basis. Also, getting to work on actual projects has given me a sense of accomplishment I've never had before.
What is the most valuable thing you learned during your time at Oakworth? The most valuable thing that I learned while being part of Oakworth was that it's always ok to speak up. People here truly value everyone's opinions, and if I had an idea or suggestion, I learned that it was encouraged to express it.
What was your favorite group during your rotation? Credit, because I was able to work on active deals and form my own opinions about loans and clients based on my own analysis.
Favorite memory? Going to several Mountain Brook Chamber of Commerce events and networking with other professionals in the Birmingham area.
Hayden Anabtawi
"If You Love What You Do"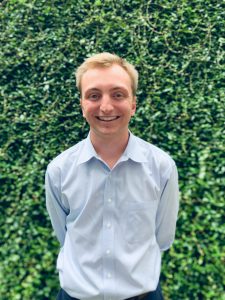 As a child, I heard the phrase "If you love what you do, you'll never work a day in your life" over and over. When I interviewed at Oakworth, it was easy to see that associates enjoy their work and the people they work with. Jennifer Shaw and the entire team showed professionalism but I felt a welcoming, team-like comradery between the group that I hadn't felt in other interviews. On the drive home I kept thinking to myself, "this something I want to be a part of".
From the moment I stepped in the building, people gave me real responsibilities and meaningful projects that allowed me to grow and think critically every day. I can't think of a time where I felt idle or unoccupied because the interns were constantly given pertinent, interesting material. For example, you could use Moody's software to underwrite a loan on Monday, and on Tuesday a Client Advisor may ask if you'd like to meet the client applying for that same loan. Income statements, ratio sheets, and other tools are extremely vital when evaluating a company, but meeting the business owner, seeing the inventory, and hearing their story makes the entire process come full-circle.
This multi-rotational program allowed me to see commercial lending, wealth management, and risk from a totally different perspective than when I began the internship and every department challenged me in different ways. When I received an assignment, I was told why I'm doing it, why it's important to the company, and what would happen if we didn't have this project. I could clearly see the value-added from my work and it made me feel like I was a part of something bigger.
This positive work environment is one of Oakworth's best attributes and a major selling point for the company. I quickly began to realize why Oakworth's employees love their job so much. Before Oakworth I never heard the word "culture" associated with a work environment unless someone was referring to a professional sports locker room. This reference of "culture" is intentional and there is much to be said about Oakworth's framework. Talented, fun, and supportive associates made me want to come to work in the morning.
Oakworth's team atmosphere, talented employees, and core values make it a great place to work and I couldn't be happier with my decision to intern here. I chose Oakworth because of those three things and those three things are what set Oakworth Capital apart from other institutions. Thank you Oakworth for this opportunity and I enjoyed every bit of it!
Hometown: Auburn, AL
School: Birmingham-Southern College
Major: Economics
One fun fact about you: I spent the summer before my freshman year of college working at a camp in Colorado.
Hidden Talent: I can put a golf ball in the water faster than you can blink
What kind of superpower would you like to have? Speed of light
What do you hope to do in your professional career? I hope to become a registered CFA or CFP.
What did you like most about being a summer associate at Oakworth? I'll miss the team atmosphere with the interns and other associates close by.
What is the most valuable thing you learned during your time at Oakworth? Always revolve what you do around the client. If you do that, you'll make their lives easier and in turn, it will make your life easier.
What was your favorite group during your rotation? Wealth
Favorite memory? The Rickwood Classic client outing with the Wealth Department