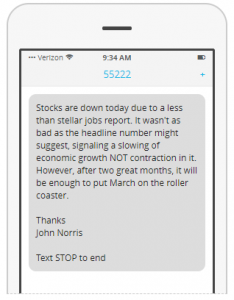 Receive Real-Time Market Updates on your Mobile Device
Oakworth now has the ability to text!  We believe communication is very important and with all the volatility in the market in recent quarters, we want to give all our clients the option to receive information in real time.
If you are interested in receiving exclusive market updates from John Norris, you can subscribe to our messaging list by texting INVESTOCB to 77222 or by reaching out to your client advisor.  In order to ensure you are receiving relevant information, you will be asked to reply back with your name and city of residence.  If you do not wish to disclose that information, you can simply ignore the message.  If you wish to stop receiving text messages for any reason, all you have to do is reply STOP to be removed from the list.