Your new Oakworth account has been established. Below you will find instructions to enroll in Online and Mobile Banking. To add your new account to your existing Online Banking account, log in to online banking, click "All Services and Settings" , then click "Add Account" under Preferences.
Online and Mobile Banking Enrollment
Online Banking Enrollment
Before you begin the online banking enrollment process, have your new account number accessible.
~ STEP 1 ~
Click here to begin the online banking enrollment process. You will be prompted to accept the Electronic Disclosure Consent Statement and the Internet Banking and Bill Payment Agreement. To agree, select the box then click "I Agree." Your web browser will also display a message letting you know that you must have an account to register for Online Banking.

~ STEP 2 ~
Once you have accepted the disclosures and agreements, you will be prompted to complete the Online Internet Banking Enrollment Form. On the bottom portion of the form you should enter the account number(s) for the account(s) that you wish to enroll. Click "Continue" when you have entered all your information.

~ STEP 3 ~
Now you will be prompted to establish your Access ID and Passcode as well as your Security Verification Questions and Answers. Click "Continue" to proceed to the final step. You will have an opportunity to verify your information. If changes are necessary, click "Back." Otherwise click "Submit" to complete the process.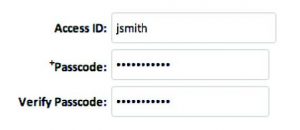 The enrollment process is now complete. You will receive an email in 24-48 hours from Oakworth Capital once your enrollment application is approved.
Oakworth Mobile Banking App Enrollment
~ STEP 1 ~
Establish Internet Banking account and credentials.
~ STEP 2 ~
On the mobile phone or device you registered, open the Apple App StoreSM or Google Play StoreTM app, and then search for "Oakworth Capital Bank" to download our app.  Open the Oakworth App.
~ STEP 3 ~
Enter Access ID and Passcode. The login credentials are the same as your Internet Banking account.
~ STEP 4 ~
You will be presented with one of the three pre-established security questions.
~ STEP 5 ~ 
You will be presented with request to enter phone number.
~ STEP 6 ~
Login process is complete and you can now navigate within the App. You will now be able to view accounts, transfer funds, and initiate bill payments.
If you require assistance during the enrollment process or if you would like to enable mobile deposit, please contact us at 205.263.4700.
iPhone and iPad are trademarks of Apple Inc., registered in the U.S. and other countries. App Store is a service mark of Apple Inc. Android and Google Pay are trademarks of Google Inc.