Clearing the clutter, getting organized and reviewing credit reports are good starting points for anyone looking to take charge of their finances. First, we cover how to clear the clutter so you can get organized before moving on to other topics.
Clearing the Clutter
Clutter happens, even to the most organized people. There is a tendency to hold onto stuff we deem important. When it comes to personal finances, clutter happens when we're unsure of how long to keep certain documents. The more we keep, the harder our organizational efforts become. This is the perfect place to start clearing. To help you determine which documents you should keep and which can be tossed, check out, "Spring Cleaning – How Long Should I Keep Financial Documents." This blog tackles this question, discussing ways to store important records and dispose of those you no longer need.
---
---
Getting Organized
In future posts, we'll explain how to create a budget and balance sheet, but first let's get your information organized.
Create a filing system that works for you.
Now that you have cleared the clutter and know which documents to keep, it is time to develop a filing system. Hanging file folders can be a great way to separate documents into specific categories. Just be sure to create separate files for bills currently due and financial documents that need to be stored for a long time. Another best practice is to create one folder labeled "taxes" and store all tax-related documents for the year in it.  This will make it much easier to find everything you need come tax time.
If you are more interested in a digital solution, a variety of services provide secure online vaults. For Oakworth Capital Bank clients, we can set up an eMoney Client Portal. This personal finance website allows you to store all of your financial information in one place: spending/budgeting, investments, insurance, property, cash flow and confidential documents.
Set up a bill paying system.
Just like with a filing system, it is important to create a system for paying bills that works best for you. There is no right or wrong way to handle bill paying. The most important thing to do is find a system and stick with it.
Set up automatic payments — Many bills can now be automatically paid — very convenient for those who occasionally forget a payment. Even with automatic payments, best practice is to set aside time each month to review your bills to make sure you are not being overcharged. More on this topic next week.
Pay as you go — As the phrase implies, under this method you are simply paying each bill as soon as you receive it.
Dedicated time — Consider setting up a specific day and time each week or month to pay bills. Having a good filing system in place will make it easier to find the bills when you need to pay them.
Track your expenses.
Understanding and managing cash flow is vital when it comes to achieving your financial goals. So, it's important to establish a system to track expenses. While doing this on a spreadsheet can work, many of the digital options make it a far easier exercise.  Investopedia does a great job of breaking down the pros and cons of some of these apps. Oakworth clients can also use the previously mentioned eMoney Client Portal to track expenses.
Credit Report
A credit report can provide a picture of your overall financial situation. Reviewing your credit reports for accuracy can also help identify errors or fraudulent activity. Fortunately, it is easier than ever to obtain copies of your reports. Every consumer has the right to a free credit report every year from each of the three major credit bureaus. To receive your free report, simply visit annualcreditreport.com.
If you discover issues on your credit report, it is important to reach out to the credit reporting companies to correct any errors. The Consumer Financial Protection Bureau (CFPB) provides a great resource called, "How do I dispute an error on my Credit Report?"
Banking clients of Oakworth Capital also have access to a free credit score and report via your online banking login. This tool continually updates and allows you to view changes to your credit score, along with alerts about factors that impact your score.
Thank you for your time this week. We hope you found this blog informative. Next week, join us as we take a deeper dive into Better Budgeting and Cash Flow Management. In the meantime, should you have any questions, please feel free to reach out to your Oakworth Client Advisor.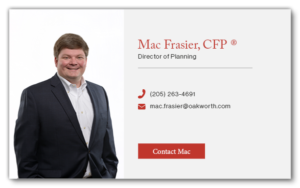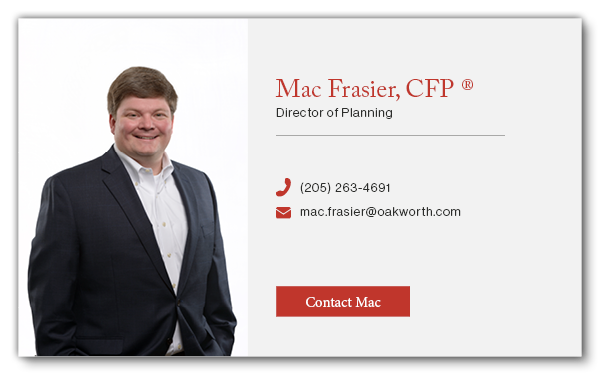 ---
Next Week: Better Budgeting & Cash Flow Management
---
Financial Literacy Resources
MyMoney.gov — Website run
by FLEC that provides educational resources, checklists and personal finance calculators
takechargeamerica.org — Nonprofit that focuses on credit counseling, debt management and student loan counseling. This website contains a variety of financial tips and calculators.
consumerfinance.gov/consumer-tools/ — Website run by the Consumer Financial Protection Bureau. A guide for many commonly asked financial questions.
This document is being provided for informational and educational purposes and is not meant to be taken as specific advice. Oakworth Capital Bank does not provide tax or legal advice. All decisions regarding the tax and/or legal implications of these strategies should be discussed with your tax and/or legal advisors before being implemented.