Tony Iannone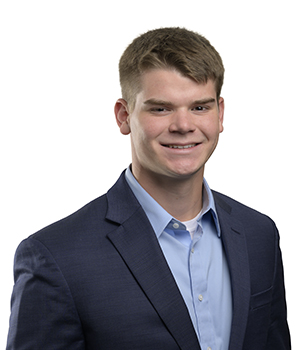 My name is Tony Iannone and I am a senior at Auburn University. I am working towards getting my bachelors in finance and expect to graduate in May of 2023. I was born and raise in Savannah, GA along with my 3 siblings. I love sports; my siblings and I all played while growing. Football is probably my favorite to watch. I still play a good bit of basketball and have picked up golf as a new hobby.
This summer, I was giving the opportunity to intern at Oakworth Capital Bank. It has been a great experience in many ways. I particularly enjoyed the structure of the internship. We rotated through four areas of the bank over the course of 10 weeks. This helped me understand the big picture of how the bank operates. The rotation also allowed me to meet nearly all the associates in the Central Alabama office. The associates are very friendly and excited to help you learn.
With Oakworth, what you see it what you get. During the interview process, the importance of the core values and purpose were stressed. They look for individuals that fit the model of 'Right People, Right Seat.'
It was pretty impressive to see such a cohesive team at work; everyone working together to help the client succeed. One way that Oakworth helps its clients succeed is by supporting the continued development of its associates. They want all their associates to be equipped with all the skills necessary to be able to provide the client with the best experience possible. Clients appreciate working with highly talented associates that go the extra mile.
Oakworth is reinventing banking; its purpose is to help others succeed. This includes both clients and associates.
Hometown: Savannah, GA
School: Auburn University
Major: Finance
One fun fact about you: Unsweet tea is my drink of choice
Hidden Talent: Slicing the golf ball
What kind of superpower would you like to have? Being able to fly
What you hope to do in your professional career? Wealth management and real estate
What do you like most about being a summer associate at Oakworth? I enjoyed the rotational aspect. It allowed me to meet many associates and learn what they do
What is the most valuable thing you learned during your time at Oakworth? Working and analyzing financial statements
What was your favorite department/team during your rotation? Banking
Favorite memory? Grabbing dinner and a drink with the interns and associates at Oakworth University
Tips for future summer associates: Show up on time with a good attitude, give effort, get to know the associates in each rotation, make an effort to be involved
Hayley Moorehead
A Summer of Firsts and Change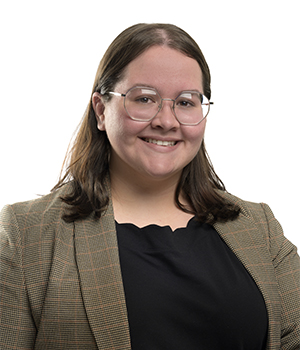 This has been a weird time in my life, both personally and professionally. I started college at The University of Alabama back in 2019, went virtual three quarters into my freshman year, went virtual for a semester, then hybrid for another semester, and now I'm finally able to have a somewhat normal college experience. As the years were creeping up on me, I decided I needed to apply myself into my field of study so that I could discover what I would potentially like to do. That's when Oakworth came into my life – well, they popped up on my screen really. It was the first internship to pop up when I searching "banking" on Handshake. I applied, interviewed, and eventually received the news that I had been chosen to be a summer associate. Over the summer, I was thrusted into a 40-hour work week with daily tasks and goals and spent every day learning something new either about finance, myself, or the way a bank works. If you told me before freshman year of college that I would be doing some of the things that I was doing, I would have laughed at you. I'm more of the shy and reserved type. But, Oakworth really pushed me to be a better version of me over these past 10 weeks.
I spent 2 weeks in each department including: credit, banking, wealth, and finance/accounting. Each rotation brought something new. New skills, new tasks, new people, and new stories. In credit I learned how the loans come in, how they're underwritten, and got to do some calculations of my own that simulate what the analyst does. Banking took me 2 steps back and showed how the conversation gets started, but also took me 2 steps forward in how they close a loan. They also showed me what goes into building a relationship with a client. Wealth showed me a range of things including planning for a client's future, how they manage a portfolio, and what goes into making investment decisions. Finally, finance and accounting showed me just how much goes into running a bank and what needs to be done to ensure that we're on track each quarter. I got exposure to leadership and saw what good leadership can do for an organization. I also got to do various other things like attend loan committee, write up a mock loan, go on client visits, help with events, and even got to compete against my fellow interns to see who could make the best investment decisions (spoiler: probably not me).
I'm so glad I got the opportunity to interview with Oakworth and that they picked me to be an intern. As a first-generation college student, I could not be more thankful for some of the lessons and support that I've gotten throughout these 10 weeks. Each cubicle in each department saw a different Hayley than the last. Each week helped me grow more and more both as a person and as a professional. There were times where I was frustrated, confused, and excited. Even when things got a little rough in my personal life, the people of Oakworth really helped me and gave me the confidence boost that I needed to push through what I was dealing with. Oakworth's core purpose is something they live up to. They really helped me succeed, both professionally and personally. I don't think you can find that anywhere else.
Hometown: Jasper, AL
School: The University of Alabama
Major: Finance
One fun fact about you: I've been to every Alabama State Park
Hidden Talent: Making strawberry smoothies
What kind of superpower would you like to have? The ability to read minds – it would make life so much easier
What you hope to do in your professional career? Inspire others and help people achieve their goals – whether that be personally or financially
What do you like most about being a summer associate at Oakworth? Going to work with people who are passionate and want to help you succeed
What is the most valuable thing you learned during your time at Oakworth? To show up, try your best, and ask questions when you have them, that's how you learn the most and get better at what you want to do. Bonus points for how insurance policies work
What was your favorite department/team during your rotation? Tied between Credit and Accounting/Finance. Both really played well with my skillsets
Favorite memory? Talking in depth with Lauren during my associate spotlight project. She offered some great advice and helped me feel confident in my path forward, even when I was hitting some major road bumps
Tips for future summer associates: Never be afraid to ask for advice or ask questions, the people of Oakworth only want to see you succeed and can offer the best advice
Carson Ashcraft
"Every person that you meet knows something you don't; learn from them" – H. Jackson Brown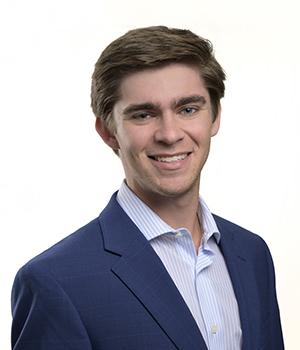 The Oakworth summer internship program has been one of the best experiences I have had! It is so much more than an internship; I have felt like a part of the team. During these past 10 weeks I have been able to work with some amazing people and work on some really beneficial projects. Some of the highlights of my summer have been: working and presenting a mock loan package to loan committee, shadowing associates in all the departments, and the awesome client networking events! The hands-on approach to the internship has allowed me to gain actual working experience I can use for the rest of my life. While in college it is invaluable to be able to get the kind of experience Oakworth offers!
I have been around Oakworth since they opened the South Alabama office and have always had a great experience with them but being able to experience the culture, the associates, and the way they do things first hand has made my view of Oakworth become even better! I first learned about their internship program when Forest Whatley gave a presentation in one of my classes at Auburn. Hearing about the opportunities and experience I could have with Oakworth made me want to be apart of the great program. As I interviewed, I immediately knew this was the type of workplace I wanted to be a part of. Their emphasis on their core values aligned with what I try and hold myself to and I could not have asked for a better fit!
These 10 weeks have flown by and I cannot believe my internship is coming to an end. This past summer at Oakworth has exceeded all expectations I had for an internship. I remember in the first week of the internship we had a crash course in all things Oakworth: how each department worked, the Oakworth way, and how to be Oakworthy in everything you do. Hearing about Oakworth's culture and meeting all the great people who work here makes it seem almost too good to be true. That could not be further from the truth. I am so grateful for the time I have spent as an Oakworth intern! Thank you everyone for an experience I will never forget! Oakworth is a truly special place and if anyone reading this is looking for a one-of-a-kind internship this is the place to be!
Hometown:  Mobile, AL
School:  Auburn University
Major:  Finance and Economics
One fun fact about you:  When I was young, I was convinced I was Steve Irwin. And yes, I have been stung by a stingray
Hidden Talent:  I can name almost any college mascot
Superpower I would like to have:  Teleportation
What do you hope to do in your professional career?  After this internship I have found a great interest in banking, especially in the wealth side. Eventually, my career goal is to own my own business
What do you like most about being a summer associate at Oakworth?  The great people I was able to be around and the relationships I have made
What is the most valuable thing you have learned while at Oakworth?  The importance of a strong culture and shared vision in a company
What was your favorite team/department during your rotation?  Wealth or Banking… too hard to choose
Favorite memory?  Fun Friday's hands down
Tips for future summer associates:  Go out of your way to be involved in everything you can even if that means you have to go outside your comfort zone
Nia Ratcliffe
Identifying what you like to do will help you succeed.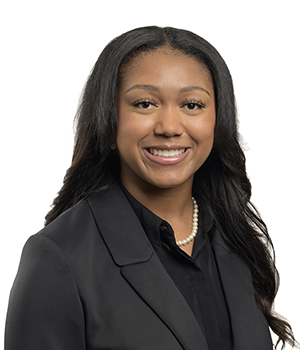 Hi everyone! My name is Nia Ratcliffe, I am a rising senior at Samford University studying finance with a concentration in data analytics. I am originally from Lake Charles, Louisiana but moved to Birmingham, AL when I was four years old. So, basically Birmingham is where I call home.
This summer, I was extremely grateful to be a summer intern associate at Oakworth Capital Bank. Entering my senior year, I was not sure what I wanted to do in post-graduation and finding out that this internship was a rotation I knew this internship would help me fill that void. While I was there, I was able to rotate in four different areas of the bank such as: wealth management, financial operations, credit, and banking. Throughout the ten weeks, I learned about trust documents, I created and presented a financial plan, presented a LOC at loan committee, looked through tax returns to find income, input accounts payable, and went on client meetings.
I first heard about Oakworth at a finance management career fair held at Samford's Business School.  What first strike me about Oakworth was their core values and purpose and while being there learning how and why they value their relationships with their clients and with their associates. Secondly, what made me choose Oakworth was during the interview process they made the panel interview comfortable and it felt more like a conversation less than an interrogation. I learned so much, and the knowledge that I have gained over the summer will prepare me for my future career. The associates at Oakworth are big-hearted and are extremely nice and they really made sure to give the interns the best working and learning experience. Overall, I am forever grateful for being in this internship program!
Hometown: Birmingham, AL
School: Samford University
Major: Finance, Data Analytics Concentration
One fun fact about you: I like to bake
Hidden Talent: I can dance
What kind of superpower would you like to have? Super-fast speed
What you hope to do in your professional career? In my professional career, I want to be able to help people, and I do want to be able to obtain my MBA in the future
What do you like most about being a summer associate at Oakworth? What I like most about being a summer intern associate is that the people didn't treat you like the typical "intern" they make you feel included. They treated you as an associate which included working on projects, going to client meetings or calls while still providing you the best learning and working experience. Being treated as an associate is not just doing work it also deals with social activities or outings which are fun because you are able to connect with associates and the other interns in a non-workplace setting
What is the most valuable thing you learned during your time at Oakworth? The most valuable thing that I learned during my time at Oakworth was the importance of workplace culture
What was your favorite department/team during your rotation? Credit
Favorite memory? Going to client meetings and learning about their relationship with Oakworth and learning about the client's backstory and how they started their company. Also, going to the Barons game with the other interns and associates
Tips for future summer associates: Don't be afraid to ask questions. There are no dumb questions! The associates want you to ask them questions, and they are happy to help!
Hunter Higgins
"Life begins at the end of your comfort zone." -Neale Donald Walsh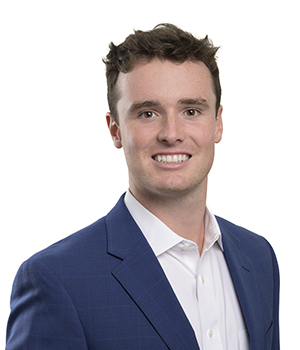 When I initially interviewed for the internship at Oakworth, I did as many other applicants would and explored their website to better understand the company. A recurring theme was the concept of "culture" and its importance to the foundation on which Oakworth is built. Although it is not a novel idea, the term culture now seems to be an abstract thought thrown around loosely, so naturally, I shrugged off the idea that Oakworth's is superior to others. After ten weeks, I realized I shouldn't have taken the references so lightly.
I feel that my experience in school provided a strong foundation of knowledge; however, it is comparatively minimal to the amount of real-world knowledge I accumulated over the summer. Like my fellow intern class, I am a finance-focused individual who sought more than a stereotypical coffee-run and busy work internship.  My experience may differ slightly from others because I was the first intern in the slightly smaller Nashville office, but I couldn't have asked for a better experience. From day one, I was given similar responsibilities to a full-time associate, which ultimately accelerated my professional development and overall understanding of banking processes. It was really exciting to be involved in one of the most dynamic business environments in the country. Most of my summer was spent in the credit department, where my duties included generating cash flow analyses and providing insightful information to client advisors. I was eager to attend client meetings, and fortunately, I was often pulled in, which might not happen in a larger corporate environment. Perhaps the most distinctive experience was working alongside the analysts and advisors to execute two leveraged buyouts. I was able to provide meaningful assistance in the early stages and see the entire process from beginning to end.
After revisiting my initial expectations and reflecting on my time this summer, I formulated two key takeaways. First, it is essential to be in a healthy work environment that fosters personal development because if you love what you do, you will never work a day in your life. I love the team approach Oakworth embraces because it pools the expertise of bright individuals, providing the best possible experience to clients. Second, being in uncomfortable situations helped drive my growth mentally and professionally. I was a part of meetings and performed work in areas where I had little previous expertise, so naturally, it was a little daunting. But like the quote states above, it is difficult to advance if you accept complacency. Everyone from recent hires to the founders of Oakworth welcomed me with open arms, and I always felt that I could approach anyone with my questions. I was able to grow tremendously as an individual over the summer, and for that, I will always be appreciative.
Hometown: Fayetteville, TN
School: University of Tennessee
Major: Finance
One fun fact about you: I have visited seven foreign countries
Hidden Talent: Snow skiing
What kind of superpower would you like to have? Time travel would be too scary! Going to stick to flying
What you hope to do in your professional career? Achieve a leadership role and be happy with what I am doing
What do you like most about being a summer associate at Oakworth? The hands-on experience and the overall culture/people
What is the most valuable thing you learned during your time at Oakworth? Generic answer, but the value of hard work
What was your favorite department/team during your rotation? Credit (analysis and advisory services)
Favorite memory? Going to "get dinner" with Glenn and Carson and staying at the restaurant for 4 hours
Tips for future summer associates: Don't be afraid to ask questions because everyone has been in the same situation. Involve yourself as much as possible because the program will benefit you as much as you allow it to
Emily Cruce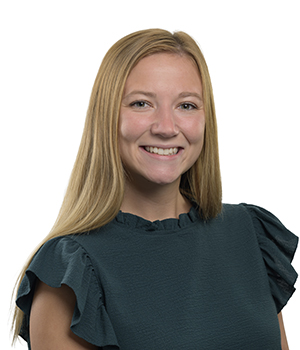 My name is Emily Cruce and I had the amazing opportunity to be Oakworth's first Human Resources summer intern associate. I was born and raised in Birmingham and graduated from Oak Mountain High School in 2019. I played soccer at Auburn University at Montgomery my freshman year and then transferred to Auburn University my sophomore year. I am working on obtaining my Bachelors of Science in Business Administration degree with a major in Management and a minor in Human Resources.
My internship looked a little different than the typical finance rotational internship. I worked with HR on many different projects over the past few months. Some of these projects included revamping the mentorship program for new hires, research many various topics, and taking part in the onboarding process for new hires. During my internship I learned everything from recruiting new associates to onboarding to behind the scenes doing benefit reconcilements. I even got to help the marketing team on a couple of projects. One included distributing tickets for The World Games as Birmingham was the host this year. Oakworth was a corporate sponsor of The World Games and I helped distribute tickets to our clients and associates.
I chose Oakworth because of the culture I experienced when I came in for my interview. Everyone was so welcoming I knew I wanted to be a part of this culture. Being an Oakworth summer intern associate is not a typical internship. Never would I thought that I would be sitting in meetings with the senior leadership team nor being introduced to our Board of Directors. Oakworth is a very special place to work and I am so grateful I had to the opportunity to work at Oakworth.
Hometown: Birmingham, AL
School: Auburn University
Major: Business Management with a concentration in Human Resources
One fun fact about you: I have never been out of the county
Hidden Talent: Ping Pong. I was on the ping pong team in high school!
What kind of superpower would you like to have? Teleportation. I hate driving and being able to teleport would be amazing!
What do you hope to do in your professional career? To be in a position to make an impact on people's lives… and to pay off student loans!
What do you like the most about being a summer associate at Oakworth? Every associate values your opinion and will do anything to help you!
What is the most valuable thing you learned during your time at Oakworth? Take the time to build relationships with the associates. Talk to them, get to know them and their story, especially the senior leadership team. The story of how Oakworth came to be is a very interesting story!
What was your favorite department/team during your rotation? I was a Human Resources intern, so I did not have a rotation BUT shout out to the credit team for letting me sit with them all summer!
Favorite memory? Competing in the Corporate Challenge. It was my first week as an intern and I jumped right in playing dodgeball and soccer!
Tips for future summer associates? Don't be afraid to ask a lot of questions! That is how you learn and the associates want you to ask as many questions as you can!
Wells Watts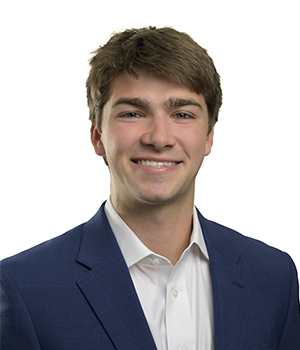 My name is Wells Watts, and I am a rising junior at Auburn University where I major in finance. I first heard about Oakworth through FMA, a high-level finance organization at Auburn, and knew I had to apply. When I got the internship, I never knew just how valuable my 10 weeks would be at Oakworth. I chose to intern at Oakworth initially because of its outstanding reputation. I heard how good the culture was, how excellent the people at the bank were, and that it was a smaller bank, which I was drawn to.
Within the first week, I was immersed in Oakworth's history, culture, and immediately felt welcome by the other associates working there full-time. I completed various tasks throughout my internship, all of which equipped me with a different skill to carry on to my remaining time at Auburn and well into my professional career. From underwriting private banking loans to making a mock financial plan for a young couple, I was able to get exposure to so many disciplines in the banking and finance world. What makes this internship special, is the amount of exposure you get. As a 19-year-old, I was put in front of top clients, top prospects, and various business owners, to ask questions, learn from them, and pick their brains. I was expecting to be hands-on this summer, but I never thought that I would have those opportunities. That is what makes an internship with Oakworth different. They provide you with real work and real opportunities so you can get the true day-to-day experience of working in banking.
If I had to describe the summer in any way, it would be a "full-time internship". I was this because every day I felt like I was coming to work as a full-time associate, not just a summer intern.
Hometown: Vestavia Hills, Al
School: Auburn University
Major: Finance
Fun Fact: I was a whitewater raft guide in California during the summer of 2021
Hidden Talent: Whitewater Kayaking
Superpower: Invisibility
Favorite Part about Internship: Level of exposure to clients and real scenarios/ tasks
Most Valuable Thing I learned: Evaluate the credit worthiness of a potential consumer
Favorite Department: Wealth or Banking
Favorite Memory: Playing Golf after work with Mike and Collin
Tips: You get out what you put in. Always ask questions and probe around to see if there's any work to be done, or things you can help with. Even if it may not be your favorite task, you'll gain skills and a good habit by always seeking out projects.