As National Financial Literacy Month comes to an end, we hope you have a better understanding of your personal finances. With a firm grasp on your current situation, it's time to look to the future and establish financial goals.
What are financial goals?
Financial goals consist of savings, investment or spending targets you hope to achieve over a set period of time. These goals may be determined by your current stage of life and are often aligned with longer-term plans.
Create SMART goals.
Specific. Measurable. Achievable. Realistic. Time-based.
Individual financial goals are specific to each person's circumstances. However, when it comes to planning, anyone can use the SMART goals template.
Specific – "I want to save $15,000 to use as a down payment for my next car."
Measurable – "I want to save $5,000 per year, which is $417 per month."
Achievable – "My budget includes up to $550 of surplus income that enables me to save the targeted amount of $417 per month."
Realistic – "According to my income and expenses over the past year, I should be able to achieve this goal."
Time-based – "I want to save $15,000 within three years."
SMART is a tool that provides the clarity, focus and inspiration needed to achieve your goals. It also improves your ability to reach them by encouraging you to define them in detail and set a completion date.
Use best practices for creating financial goals.
Start small and adjust over time – "Rome wasn't built in a day," and your financial goals will not be achieved in a single day either. Start out small and work toward bigger changes. For example, if your goal is to start saving $500 a month for retirement, that is a dramatic change if you have not previously been saving. Start with saving $100 a month for a few months and gradually increase the amount until you hit the goal.
Consult your budget and balance sheet when creating goals – Use these tools to help inform your financial decisions. The ultimate goal of a balance sheet is to determine whether spending and savings align with personal or business goals. If not, you may need to adjust your budget. In the previous example, the goal of saving $500 a month for retirement is great, but if your budget shows you have only $100 left at the end of the month, it is decision time. Are there expenses that could be reduced to free up additional funds for savings? Or do you need to start out smaller and make adjustments over time?
Create both short- and long-term goals.

Short-term examples

Build an emergency fund
Pay off a credit card
Take a family vacation

Long-term examples

Live comfortably in retirement
Pay for children's college
Purchase a vacation home

Write down goals – Numerous academic studies prove that those who write down their goals are far more likely to achieve them. I would encourage you to go a step further and not only write them down but also make sure you are reviewing them regularly.
Schedule check-ins – Take time to check your progress and reevaluate your goals. Seeing progress can be very motivating, and if your strategy isn't working, a check-in gives you a chance to make adjustments.
Thank you for following along with this series. We hope you found these blogs informative. Be sure to join us in October for another series, which focuses on Financial Planning Month. In the meantime, should you have any questions, please feel free to reach out to your Oakworth Client Advisor.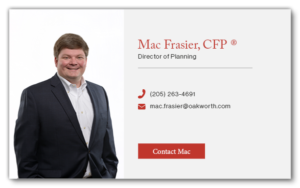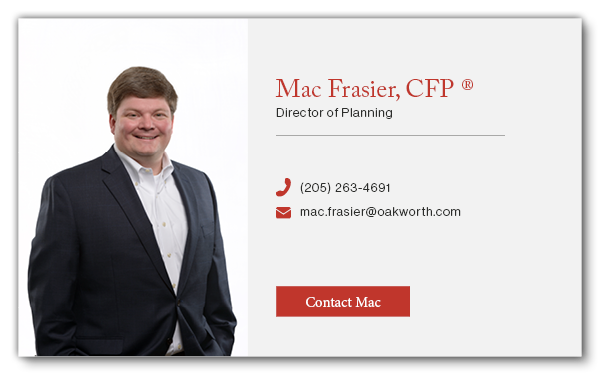 ---
Read the Full Financial Literacy Month Series Here:
---
Financial Literacy Resources
MyMoney.gov — Website run by FLEC that provides educational resources, checklists and personal finance calculators
takechargeamerica.org — Nonprofit that focuses on credit counseling, debt management and student loan counseling. This website contains a variety of financial tips and calculators.
consumerfinance.gov/consumer-tools/ — Website run by the Consumer Financial Protection Bureau. A guide for many commonly asked financial questions.
This document is being provided for informational and educational purposes and is not meant to be taken as specific advice. Oakworth Capital Bank does not provide tax or legal advice. All decisions regarding the tax and/or legal implications of these strategies should be discussed with your tax and/or legal advisors before being implemented.