2021 Financial Highlights
$1.2 billion in bank assets at year end
35% increase in deposits to $1.1 billion
19% increase in core loans (ex PPP) to $736 million
$2.0 billion in wealth assets at year end
Wealth fees up 38% to $10 million
46% increase in 2021 net income to $10.7 million compared to $7.4 million in 2020
33% increase in net income excluding impact of PPP lending in both 2021 ($2.9 million) and 2020 ($1.4 million)
Earnings per share of $2.24 vs. $1.55 in 2020
Book value per share of $21.68, 10% higher than $19.76 at year end 2020
33% increase in dividend to $0.40/share
2021 was a milestone year for Oakworth in many respects.  We crossed $1 billion in total bank assets at the end of the third quarter and proceeded to grow to $1.2 billion by year end.  Wealth assets grew to $1.99 billion at the end of the year driven by a mix of new relationships, additions to existing relationships and market performance.  The newly opened Middle Tennessee/greater Nashville office performed very well!  And, being named the #1 "Best Bank to Work For" for the 4th year in a row by The American Banker continues to provide objective evidence of our success in creating a workplace that attracts the best and brightest talent.
To expand on Middle Tennessee, we have an outstanding team in the market that continues to validate that the right people, paired with the Oakworth approach and operating system, in the right market is a winning formula. By year end, Middle Tennessee was very close to a break-even run rate.  More exciting, we have a full and active pipeline of business to close in 2022!  We are ready for and confident in our ability to enter our next dynamic market.  As always, timing will depend on finding the right people to serve our clients with the high level of service that the Oakworth brand conveys.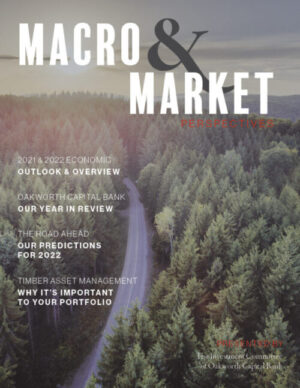 2021 & 2022 Outlook & Overview
Our Year in Review
The Road Ahead: Our Predictions for 2022
Timber Asset Management: Why It's Important to Your Portfolio
Oakworth's bottom line performance was strong as evidenced by an increase in net income of 46% in 2021 compared to 2020.  As a reminder, we made a substantial investment in Middle Tennessee, so this bottom-line performance is particularly noteworthy.  Once again, our business model was evident in the strength of our results.  As an example, in 2021 we saw numerous instances of closely held business owners exiting their businesses.  Our business cycle approach positioned our team strategically to advise the individuals and families before and after the transaction.  Knowing our clients' goals and objectives allowed us to serve their individual financial needs through wealth transition with wealth management, banking, and advisory services (provide via our GPS planning process.)  Clients provided rave reviews for the value provided from the thoughtful and structured approach.
Also influencing 2021 results was the  Payroll Protection Program (PPP).  We largely brought PPP to a successful close by year end.  PPP added $2.9 million of net income to our bottom line during the year ended 2021 and another $1.4 million in 2020.  (Excluding this impact, our net income still increased a healthy 33% year-over-year.)  We believe the combination of a robust pipeline of future business along with the potential of increased interest rates in 2022 hold the promise of a strong year!  And, we were pleased to share our success with shareholders in the form of a 33% increase to $0.40/share in our annual dividend, paid out on January 14, 2022.
As we enter 2022, we are focused on our vision of "Redefining Financial Services" and our goal of becoming an iconic brand.  Our proven process of attracting the best people and delivering a distinctive client experience in a very consistent way should continue to yield very positive results for our stakeholders.  Our clients confirm every day that Oakworth is unique because of our people, our service levels, and our ability to make it easy!
We measure our Net Promoter Score regularly with scores in excess of 90 (which is nearly unheard of and I'd encourage you to research similar measures for those companies that you consider to be iconic brands) and our client retention rate since inception is 99%.  Our associates' feedback has led to Oakworth being #1 in the country in the annual American Banker "Best Banks" survey along with a 95% retention rate.  Our shareholders have enjoyed strong returns since inception, and we are positioned to continue (and even improve) that performance.  Finally, the communities within which we operate continue to benefit from our associate involvement and the company's financial contributions to numerous worthwhile causes.
Objectively reflecting on our profitability and growth along with market multiples for the industry, we believe that there is great opportunity for investors in our stock currently.  We would encourage you to draw your own conclusions.
As always, we thank you for your support and your role in Oakworth's success.   Your investment in Oakworth is a humbling vote of confidence that we take seriously.  As always, we appreciate our shareholders referring potential clients and associates who appreciate the Oakworth approach, or choosing us to help meet your own financial services needs.
Sincerely,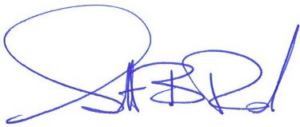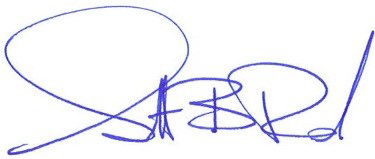 Chairman and CEO