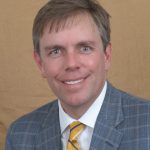 Oakworth Capital, Inc. (holding company for Oakworth Capital Bank) is pleased to announce the addition of Samford T. Myers, (Sandy) as a member of its Board of Directors.  Mr. Myers is the owner of ASF, Inc., which provides transportation and logistics services.  He acquired the company in 2000, which was focused exclusively on forest products being exported from the United States and has since diversified the company to handle many other commodities, import and export, as well as a full range of trucking/intermodal solutions.  Prior to acquiring ASF, Inc. he held positions at the U.S. Environmental Protection Agency (EPA) and Walker Export Company.  He earned Bachelors and Masters of Civil Engineering degrees from Auburn University.  Mr. Myers currently serves on the board of the Salvation Army of Coastal Alabama and the Drug Education Council in Mobile.
"We are pleased to have Sandy Myers join the Board of Directors for Oakworth Capital, Inc.," said Scott Reed, Chief Executive Officer.  "Sandy currently serves on the South Alabama Advisory Board and exemplifies all of our core values.  He has been very important in establishing and growing Oakworth in Mobile and South Alabama.  We are tremendously excited about this market and what our South Alabama Oakworth team means to our company.  We look forward to the valuable insight and guidance Sandy will provide as a member of our Board."
Oakworth's Board Members are comprised of successful leaders from across the Southeast that share Oakworth's vision of "Redefining Financial Services" while demonstrating leadership though our shared core values (Golden Rule, Character, Professionalism, Innovative/Creative Spirit, and Work Ethic).
About Oakworth Capital Bank
Oakworth Capital Bank provides commercial banking, wealth management, and private banking services to successful businesses, families, and individuals.  The Bank serves its valued clients across the United States from its headquarters in Birmingham, Alabama as well as offices located in Montgomery and Mobile.  For more information about Oakworth Capital Bank and its unique approach, please visit the company website at www.oakworthcapital.com or call us at (205) 263-4700.