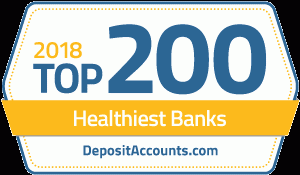 Oakworth Capital Bank has been named to the 2018 DepositAccounts Top200 list of Healthiest Banks in America. Oakworth ranked 28th nationally and 1st in Alabama. This marks the 4th consecutive year in a row that Oakworth has been in the Top 200 and has achieved an "A+" in the annual health rating for 15 consecutive quarters, ranking it as one of the healthiest FDIC insured banks in the United States.
"We are proud to be named in the Top 200 again," said Scott Reed, CEO of Oakworth Capital Bank. "Our 'A+' health rating is a direct reflection of our strong client base." We celebrated our 10-year anniversary at the beginning of April, and this is objective confirmation that we have built a lasting organization."
DepositAccounts.com evaluates the financial health of over 11,000 banks and credit unions in the United States. A comprehensive health score is calculated, as each institution is graded on several factors including capitalization, deposit growth, and loan-to reserve ratios. See the full list at www.DepositAccounts.com.
About Oakworth Capital Bank
Oakworth Capital Bank provides commercial banking, wealth management, and private banking services to successful businesses, families, and individuals.  The Bank serves its valued clients across the United States from its headquarters in Birmingham, Alabama as well as offices located in Montgomery and Mobile.  For more information about Oakworth Capital Bank and its unique approach, please visit the company website at www.oakworthcapital.com or call us at (205) 263-4700.
About DepositAccounts.com
DepositAccounts.com is the largest and most comprehensive online publication in the U.S. dedicated to banking and deposits product information for consumers. It covers every federally insured bank and credit union and utilizes its patented technology to track approximately 275,000 consumer deposit rates, each updated nightly. The site features more than 11,000 editorial articles detailing depository strategies and highlighting current bank rates and offers. It is also home to one of the largest communities of depositors on the Web, hosting more than 100,000 comments, customer reviews, and forum threads.