UPDATED:  URGENT MESSAGE FROM OAKWORTH CAPITAL BANK – FRAUD ALERT
Update April 4, 2020:
If you have received a text message similar to the example provided below, do NOT respond.  This is a fraudulent attempt and, if you do respond, you will immediately receive a phone call from a scammer attempting to gather confidential information.  We have seen several attempts with clients and all follow this pattern which begins with responding to this text.  Authentic fraud alerts via text will not originate from a 10 digit phone number.  Please do not hesitate to call us should you receive one of these fraudulent texts or if you have already responded to one recently.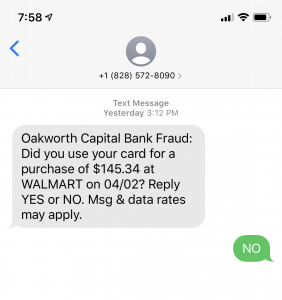 April 3, 2020
To all Oakworth Clients;
As you have likely read, fraudulent attempts on online banking credentials and debit cards have increased during the COVID-19 pandemic.  We have been made aware that scammers have reached out via text and phone to some Oakworth clients, posing as an Oakworth associate and requesting confidential information such as User ID and Password to online access.  These calls may appear on your telephone to be originating from our office, they are not.  Oakworth Capital will never proactively contact you to request your online banking or challenge questions to establish your identity.
Should you receive a text or call from Oakworth Capital and you do not know the caller, we encourage you to hang up and call us directly.  All of our client advisors contact information including cell phones are available on the Our Team page of our website.  Thank you for raising our awareness and, as always, we welcome your call with questions.